Living Enabled Author's Husband to Die Well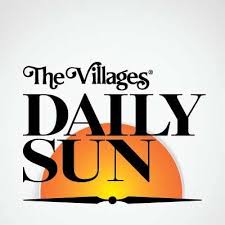 The Villages Daily Sun
By DAYNA STRAEHLEY
Daily Sun Senior Writer
Living Enabled Author's Husband to Die Well
There is a strength that comes from knowing you will die and choosing at every moment to live, author Sue Hoben said Wednesday at Lake Miona Recreation Center. Hoben spoke to the Energy Meditation Club and read excerpts from her book, "Dying Well: Our Journey of Love and Loss", about the death of her husband, Bruce, from cancer at the age of 67 in June 2009. She came from Connecticut after club member Marcia Niles, of the village of Sunset Pointe, asked club president Nancie Leon if Sue could speak to the club, Leon said. Niles said Hoben is her friend and former colleague from when they both worked for IBM.
Some people in the audience sniffled with emotion throughout the talk, but Sue said at the beginning she wasn't sad, but emotional. She said that being able to grieve with her husband was a huge benefit of his dying well. When his parents died suddenly when he was much younger, there had been no closure or time to say goodbye.
"I hope our story, or this small part of it, has given you some insight and maybe inspired you and changed the way you view death, "she told the club, where people could buy her book.
"Regrets are no way to live," Sue said.
So after tests showed Bruce's cancer had returned and spread, they dedicated themselves to the job of living every day as fully as possible. Bruce had decided that any further treatment had low probability of halting the cancer, but high probability of reducing the quality of his remaining life. For Bruce, that meant lots of chocolate and enjoying good wine, family and travel, she said. Chocolate is a recurring theme in his email to friends and family in his final months.
Sue suggested a week on a warm beach in Florida. Sue found a vacation house that was big enough for their children and grandchildren, including a five-year-old, a two-year-old and seven-week-old twins, to rent on New Smyrna Beach. On the beach, they created memories that would bring them joy and comfort in a time of grief they knew was coming. Bruce was able to enjoy their beach vacation without being tethered to intravenous drugs.
"Much of our lives are spent in the past or future, "Sue said. "On this trip our family's time was spent in the present."
They also traveled to his hometown and had parties with friends and family. The experience of telling family stories conjured up memories of times and spaces and a family narrative that would continue with younger generations, she said. They wrote his obituary together and planned his funeral with friends.
His professional colleagues roasted him 10 days before his death, she said. He was the calmest person there and knew he had to set the tone. Although he could no longer eat or drink very much and wasn't having any artificial hydration or nutrition, he accepted his doctor's advice and artificial hydration so he could stand for the party.
A turning point for Sue to no longer be afraid was Bruce's words a few days before he died, she said. That night, she helped him up the stairs to bed and realized she would have to get a hospital bed for him the next day. On their last night in their king size bed together, Bruce said "I am not afraid," and they snuggled close.